An artistic and educational project
After the immense success won by "It gets me drunk! "On the theme of alcohol and the young, Théâtrochamp takes up a new challenge by proposing a creation concerning violence and cyber-harassment or" bullying "among young people, which can generate disturbing proportions for young people. This violence takes the form of beatings, serious insults, hazing, humiliations, depredations … and can lead to suicide.
Aware of the extent of this phenomenon in the school environment, Théâtrochamp has centered since September 2013 the subject of his writing workshop on this theme.
The reports of violence are ambiguous. According to the DIP study published in 2013, there is no difference in intensity regarding the suffering felt by the victims according to the type of harassment (physical, psychological, cyber-harassment) Often the victim does not know why Is the object of this determination. As subjects of violence sometimes daily and without knowing where to turn to be reassured, these young people can arrive at dramatic ends.
Faced with the lack of accompaniment proven, Théâtrochamp wishes to make its contribution to denounce the aggressions that undergo some young people.
13 "co-authors between 13 and 22 years of age under the supervision of Messrs. Nabil Louaar, Samuel Regamey, in collaboration with Mrs. Michèle Pesson, worked on the subject.
Together let's reduce violence in all its forms and restore hope to those who suffer in silence …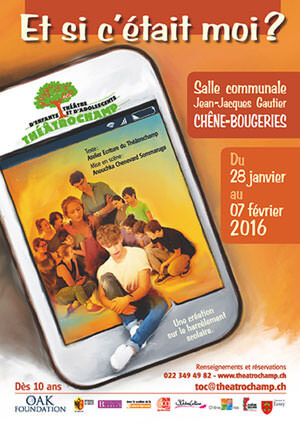 A few words about the story
Simon discovers his new college, his new class and … a new girlfriend. Then there are other encounters, such as in the playground, the first moments of school integration which will determine the quality of relationships with others.
Little jokes from some, great challenges from others, that Simon endures with the same goal: to be accepted. But how far should one go, precisely, to be accepted by others?
What is the limit between "integration effort" and "price-to-pay-for-one's-integration"?
Distribution
Text
écwritten byrit l'atelier des «adodultes » of Théâtrochamp
Workshop
animated par Nabil Louaar, Samuel Regamey avec la collaboration de Michèle Pesson
Co-authors
Nicolas Borgnana, Aurélia Larsen, Aurélia Loriol, Clotilde Loup, Jérémie Pochon, Téo Bosson, Romain Chatton, Daniel Albrecht, Juliane Tendon, Laura Dubuis, Nicolas Lopez-Alegria, Marlène de Sepibus, Mila Taylor.
Directed by
De Anouchka Chenevard Sommaruga
Assistante: Fanny Cochard
The girls:
Aurélia Loriol, Clotilde Loup, Lina Francis, Agathe Binder, Lisa Landwehr, Naara Appel
The boys:
Nicolas Borgana, Antoine Pesson, Daniel Albrecht, Téo Bosson, Grégoire Manghi, Alexis Bachmann, Antoine-Emmanuel Bachmann
Scenery
Colette Grobety Muller
Costumes
Michèle Pesson
Lighting
Danielle Milovic

Sound
Jean Christophe Cerutti
Scene management
Resp. Sibylle Pochon
avec Véronique de Sepibus, Michèle Loup, Nathalie Borgnana
Photos
Jean-Paul Levet
Graphism
L. Miéville – oeilpouroeil.ch
Production
Achka
Pedagogical approach
The writing workshop under the leadership of Nabil Louaar and Samuel Regamey met for a year and a half with three meetings a month. The youth were able to meet people who had contact with victims or perpetrators of harassment. Thus they were able to debate with Dr. Jacot Descombes, child psychiatrist, Mr. Orlando Moro, former head of the miners' brigade, two social advisers of the OC and post-compulsory.
The authors were also able to confront testimonies of young people who had experienced violence, hear them express the suffering of being mistreated or humiliated by comrades.
Our young writers were able to realize that these actions could lead to serious consequences: dropping out of school, absenteeism, depressive and suicidal tendencies.
After a lengthy discussion, the youth were encouraged to write their feelings and questions about violence and cyber-harassment. They were encouraged to learn, read articles related to the topic, view prevention videos on the Internet, discuss them, analyze their behaviors and testify to their experiences. On the basis of these exchanges, a plot of history has emerged, sketches of characters have come to life and writing has begun.
Each encounter, each testimony, each shared emotion have enriched both writing and its young authors and helped to weave the web of creation.
"AND WHAT IF IT WAS ME …? "Is intended as a project as artistic as pedagogical and the show will only be stronger.
It should be noted, according to psychiatrist Anne Edan "the act of growing up is in itself violent, adolescence is a period of great impulses … but violence is unacceptable and must be stopped. Treating violence is both condemning it and identifying the structuring and necessary dimension for the development of young people ". Frailty, due in particular to the physiological metamorphosis inherent in age, represents one of the feelings that destabilize the individual. "The adolescent does not want to be considered weak, or even the weakest. He will tend to attack those who send him this unbearable reflection, "continues the psychiatrist.
(Fighting harassment at school, March 30, 2012)
The SRED Report
A coordination group has been set up within the Department of Public Education of Geneva (DIP) for nearly a decade already to reflect on the priorities of the Geneva public school in the face of the violence.
Until recently there was no rigorous and reliable study of school-based violence in Geneva, which is why in 2012, the DIP mandated the Geneva Education Research Service (SRED) to conduct a research To analyze violence and implement a plan to combat harassment. Indeed harassment and violence undermine the school climate at all levels.
The report of the SRED published in 2013 concerns 3'000 pupils taken at random in the Orientation Cycles and the post-compulsory. The study shows that of the 1,200 pupils aged 13-15 and 1,800 aged 17-20 years, nearly 180 admit to repeated acts, real or virtual, of micro violence. All claim that these acts are perpetrated once or twice a week. Out of fear or shame, these young people rarely complain and do not dare to talk about it at home, or even to teachers. Young victims sometimes take refuge in discrete places (toilets or libraries) because they do not know who to turn to for help.